Jesus said, "Let the little children come to me..."here
Sunday School (in-person)
Sunday School is offered at both the 9:30 and 11 a.m. Worship Services.
Children preschool-5th grade are invited to join us for an hour of interactive worship which includes games, skits, science experiments, and more designed to deepen each child's relationship with Christ, build faith, and community. Masks will be required and social distancing will be observed. Contact Kristin Carns at kristin@communitylv.org or 702.458.2241 for more information about Children's Ministry.
FALL SUNDAY SCHOOL

In this series of Sunday School, children will learn The Lord's Prayer. They will not only learn the prayer, they will discover it is the prayer ABOVE ALL other prayers. Children will learn that Jesus loved us so much he gave us these very special words to pray. Each week is devoted to digging deeper into each petition, adoration, and confession, as well as learning about the power and blessings of prayer.
Lessons include Bible stories, crafts, games, and meaningful conversations. Join in the excitement, the joy, and the thrill of experiencing Jesus through interactive worship, games, skits and more! Kids will spend their time "experiencing" the Bible lesson, not just listening to it.
Be sure to register for Sunday School. Forms are available at the Information Desk or you may download a form
here
and bring it with you. Check in is required each week at our "Check-in Kiosk," also located at the Information Desk.
(Our philosophy)

We at Community Lutheran know the value of children. We believe that every child should feel God's awesome love and grace. We understand the importance of creating lifelong followers and want to help your child create spiritual habits that last a lifetime. Our goal is to offer a variety of opportunities and experiences for your family to grow in Christ together.

It is our intention to create a loving and secure environment where children and families can grow and nurture their own faiths, to provide resources, tools and connections, that will not only help in faith formation, but family bonding as well.

Your child will be treated as a unique and valued individual that God loves, and whom their church family loves. We are committed to gently guiding them on their faith journey by offering each child love, acceptance and security.

Thank you for allowing CLC to be a part of your child's faith journey.
Creating a safe and welcoming environment
Help children grow in faith
Help children apply faith to life
Positively model the Christian faith
Provide opportunities to strengthen relationships with God and each other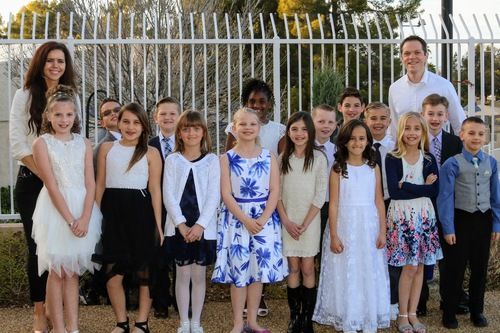 Baptism

Our baptism sets us out on a lifelong journey that is characterized by our relationship to God, our relationship to our faith community, our relationships in our community and the wider world. Living our baptismal covenant means living a life of growth in the faith practices of discipleship.

Anyone desiring to be baptized may contact the church office at 458-2241

First Communion

All of God's children are welcome at His table-everyone is invited to receive Holy Communion.

First Communion classes are offered yearly to baptized children in 3rd grade and above who have not had previous communion instruction. These classes are designed to give children a deeper understanding of the sacrament, it's meaning and it's history.

Classes are offered over a three week period and are for both the child and their parents.

Nursery

Our loving staff and volunteers care for our littlest Lutherans every Sunday. Our nursery is a safe place where infants and toddlers are shown God's love and grace. Our nursery is currently closed, but we do offer a cry room and private nursing room for your convenience.


Sunday School

"The commandments I give you today must be in your hearts. Make sure your children learn them. Talk about them when you are at home, when you walk along the road. Speak about them when you go to bed and when you get up." Deuteronomy 6:6-7

In Sunday school children experience God's awesome love and grace in a safe and engaging environment.

Learning about God can be really cool AND fun! Children are taught about the Bible on their level, through hands-on, multi-sensory experiences and active learning each week. We have a great time making friends and building strong spiritual foundations.

It is our hope to partner with parents in their child's ongoing spiritual education.

Sunday School is offered during both 9:30 and 11 a.m. services on the lower level. Children aged 3 ½ (fully potty trained)- 5th grade are invited to attend. Check in is required.
Special Celebrations and Events:
We believe it is important that you continue to nurture your faith experiences together as a family in a Christian environment. So we offer special celebrations, activities and events throughout the year including:

Service Projects
Outreach Events
Family Nights
Vacation Bible School
Enrichment Camps
Trunk-or-Treat
The summer event that helps kids discover God's greatest treasure isn't diamonds, gems, or gold--it's THEM!

Mark your calendar for CLC's premier outreach event. Our team is hard at work planning a safe and fun Vacation Bible School experience for the children in our community. VBS is designed to teach children in preschool through 5th grade about God's amazing love for them in a fun, exciting and unforgettable way. Camp will be July 26-30 from 9-noon, daily. Volunteers are needed in all areas. Please email Kristin Carns at kristin@communitylv.org for more information about specific volunteer opportunities.
We'd love to hear from you. Fill out the form below to get started.